01.2018
+++ A NEW DOCTOR AMONG OUR TEAM +++

We are proud to announce that Elisa Senger recently passed the last step to achieve her PhD in plant breeding: She presented the results of her research in a colloquium entitled "Characterization and management of Jatropha curcas L." at the renowned University of Hohenheim. She contributes her skills and knowledge to our breeding team since 2012 and supports the steady improvement of our cultivars significantly.

01.2018
+++ INTERCROPPING +++

Intercropping, or mixed cropping system, is a huge opportunity for the grower to generate extra profits in addition to the main crop. The land is used for simultaneous cultivation of different crops, each available niche is used. According to our successful test runs, Jatropha is best suited for such growing systems and can be easily combined with annual crops such as sesame, groundnut, vegetables, or finger millet. No matter if the parcels are surrounded with Jatropha or if alternating rows are planted: You´ll benefit from this double utilisation of your land. What are you waiting for? Go ahead for intercropping Jatropha!
12.2017
+++ JATROSOLUTIONS IS IN CONTACT WITH MEXICAN RESEARCHERS +++

"The Director of our Business Unit Chuta®, M.Sc. Lissette Hernández, met this year with four Mexican researchers to exchange experiences of the potential of non-toxic Jatropha in the food and feed industry and to evaluate the possibility of establishing future cooperation projects. JatroSolutions GmbH looks forward to working further with these and other international researchers to integrate knowledge and innovation of edible Jatropha into high quality and sustainable value chains.
In the photo, from left to right: Dr. Jorge Martínez-Herrera (Director of INIFAP in Tabasco), M.Sc. Elizabeth Argüello-García (researcher in Universidad Popular de la Chontalpa), M.Sc. Lissette Hernández (JatroSolutions GmbH), Dr. Andrea Valdés-Rodríguez (researcher in El Colegio de Veracruz), Dr. Odilón Sánchez-Sánchez (researcher in Centre for Tropical Research, Universidad Veracruzana)."

11.2017
+++ BE A PIONEER! +++

In 2020, Chuta® will be approved as a novel food in Europe.
Be a pioneer in Chuta®

cultivation using our EdibleNut seed cultivars and start with the necessary preparations now!


Please do not hesitate to contact us for your seed purchase:

This email address is being protected from spambots. You need JavaScript enabled to view it.

!

10.2017
| | | |
| --- | --- | --- |
| | | We at JatroSolutions mourn the demise of our co-founder and former CEO Klaus Tropf, who unexpectedly passed away on October 9th, 2017. All of us feel a great loss and would like to express our deep respect for this dedicated superior and person. |
09.2017
+++ STUDENTS PROJECT WAS LAUNCHED IN INDIA +++
At our breeding station in Karnataka state, India, we recently launched a project with students. The training aims at supporting the young researchers in their professional education by giving them insights to practical breeding and agriculture. At the same time, they help us in our intensive hybridisation project. The students are in their last year of bachelor program. For many of them, this is their first job opportunity.
08.2017
+++ JATROPHA KERNEL MEAL AS A REPLACEMENT FOR FISHMEAL IN ECO-EFFICIENT PRODUCED FISH FEED +++
Prof. Dr. Ulfert Focken, Thünen Institute, Institute of Fisheries Ecology in Ahrensburg develops a low-cost fish feed (carp and tilapia) for tropical and subtropical aquaculture, funded by Federal office for Agriculture and Food (BLE). In the project, the traditionally used fish meal, is replaced with protein rich Jatropha kernel meal. -> http://www.ndr.de/nachrichten/schleswig-holstein/Forscher-entwickeln-Fischfutter-aus-Jatropha-Nuss,fischfutter104.html. The Jatropha kernel meal was produced by JatroSolutions GmbH. Jatropha seeds were de-shelled, the oil extracted and then the defatted dried kernel meal was detoxified with ethanol. -> http://jatrosolutions.com/jatropha-research/processing/ble.html
JatroSolutions expects that within a short time the fish feed can be produced more efficiently if the Jatropha kernel meal can be replaced by the Chuta kernel meal -> www.chuta.de.
07.2017
+++ UNPRECEDENTEDLY GOOD YIELDS OF SECOND GENERATION JATROPHA HYBRIDS AT MARGINAL ARID SITES +++
Results of the current harvest season have demonstrated a further increase of the superiority of hybrid cultivars over conventional Jatropha cultivars. Even in the dry areas of northern Cameroon (close to Sahel zone) seed yields of Jatropha hybrid cultivars were unprecedentedly good. Dr. Matthias Martin, the breeding director of JatroSolutions, emphasises the advantages of the new hybrid cultivars developed in the edible and non-edible Jatropha breeding programs of JatroSolutions. Hybrid cultivars have already shown impressive seed yields within a relatively short period of three years. The seed yields of 2nd generation hybrids of the biofuel cultivars were up to 2.5 times higher than those of the best conventional Jatropha cultivars. Furthermore, in the edible Jatropha segment of chuta nuts, hybrid cultivars had 50% higher nut yields than the best conventional cultivars. Thus, hybrid seeds will transform Jatropha and its edible sister, chuta, into viable alternatives to traditional crops.
| | |
| --- | --- |
| | |

New Breeding Director of JatroSolutions GmbH:

Dr. Matthias Martin holds a PhD in plant breeding from the University of Hohenheim, Germany, and has been involved in genetic improvement of Jatropha curcas since 2011.
06.2017
+++ NOVEL FOOD +++
The European Commission has received our Chuta® Novel Food application, which has also been forwarded to all the member states of the European Union. Chuta® continues to move forward in this Novel Food authorization process and is one step closer to reaching the European market.
05.2017
+++ HIGH PLANTING DENSITIES SHOW IMPRESSIVE RESULTS IN DRY REGIONS +++
Arrangement of Jatropha in high planting densities has shown impressive results in dry regions in Madagascar. This cultivation method is characterised by a particularly narrow spacing of plants, minimum agronomic input and use of suitable cultivars. Practical applications of this approach include soil erosion control, greening of barren land, water barrier, living fence, carbon capture etc. The below photograph was taken 15 months after sowing and plants had already achieved an average height of more than two meters.
05.2017
+++ COOPERATION WITH FOOD INDUSTRY +++
A well-known partner in the food industry treated our edible nuts, called Chuta®, in three ways and packaged them in tin cans. That will be a great kick-off for our novel food. For more informations please visit www.chuta.de.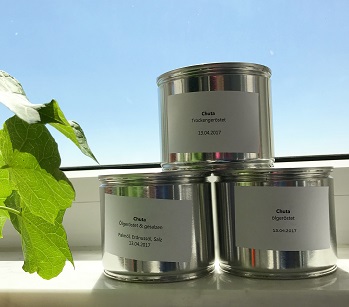 04.2017
+++ FIRST COMMERCIAL CHUTA® PLANTATION IN KENYA +++
We are proud to announce that our partner Tomkesa holding has started to establish the first commercial Chuta® plantation in Kenya. The targeted size of the plantation is 15 ha and is going to be established by the end of 2017. Tomkesa holding is aiming on producing Chuta® vegetable oil for the local market. The remaining press cake is going to be utilised as feed.
04.2017
+++ CHOCOLATE MEETS CHUTA® +++
Have you ever heard of the edible variation of Jatropha? It's name is CHUTA® (www.chuta.de). We have successfully accomplished trials with a famous German chocolate manufacturer. They produced a small number of sample chocolate bars with CHUTA®, and the result was more than delicious.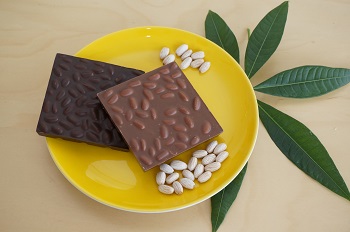 03.2017
+++ JatroSolutions Team won price for scientific poster +++
Lissette Hernández and Elisa Senger represented the JatroSolutions team at the 3rd Hidden Hunger International Congress, which took place from the 20th to the 22nd of March 2017 in Stuttgart, Germany. They presented a scientific poster, which won the 2nd price.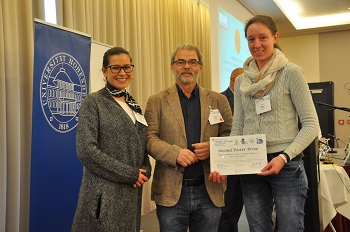 09.2016
+++ Chuta® is one step closer to the European market +++
EU Novel Food application for Chuta®
"After many years of research on Jatropha curcas L., JatroSolutions GmbH has developed a concrete and practical use for an edible variant of this plant (Chuta®). Chuta® is a nut rich in protein and fat, representing a new alternative to other nuts, which in general play a key role in human nutrition. On August 29th 2016, JatroSolutions GmbH presented the official application of "Chuta®" as a Novel Food in the European Union according to the Regulation (EC) No 258/97. The application was received by the Federal Office of Consumer Protection and Food Safety in Germany (BVL- Bundesamt für Verbraucherschutz und Lebensmittelsicherheit). The application will be reviewed by this institution as well as by the corresponding European authorities. With this step, we soon expect Chuta® to be authorised as a Novel Food in the EU in order to bring this new product of high nutritional value to the European market."
10.2015 - 03.2016
Feasibility Study "Jatropha in Benin"
The aim of the feasibility study "Jatropha in Benin" was to evaluate whether Jatropha can contribute to the conservation and rehabilitation of degraded soils on a small scale farm scope in the Zou/Collines and Borgou/Alibori region and thus contribute to food security in the Benin. The study is part of the ProSOL programme which has been initiated by the GIZ (Deutsche Gesellschaft für internationale Zusammenarbeit). In 5 out of 17 communities participating in this programme, the technical, socio-economic and ecologic practicability of Jatropha as a protection against erosion was examined.

As a main result we recommend for the Zou/Collines regions due to the already existing processing chain to support higher valuable Jatropha lines as oil crop in combination with other crops. In the northern regions Borgou/Alibori Jatropha can be planted as wild type to control erosion problems. The focus on oil production will need first an investment in processing.
11.2015
EBTP underlines importance of alternative energy sources in analysis of Paris Climate Conference
In its current newsletter, the European Biofuels Technology Platform (EBTP) comments and evaluates the results of the recent Paris Climate Conference. In its considerations, the EBTP underlines the importance of alternative energy sources such as Jatropha-based biofuels. Read their complete analysis here: http://www.biofuelstp.eu/newsletter.html
09.2015
Scientific proof that animal feed from Jatropha has no risk
The European Food Safety Authority (EFSA) has recently published a scientific opinion paper that comes to the conclusion that the feeding of the protein-rich material derived from Jatropha curcas L. (Jatropha) seeds does not propose a health risk to pigs and that the risk to other species is likely to be low – provided that the otherwise toxic phorbol esters are almost completely removed. The underlying experiments that have led to this assessment were largely based on JatroSolution's detoxification patent and the animal feeding studies that have been conducted in this context.
Read the full EFSA scientific opinion paper here:
http://www.efsa.europa.eu/sites/default/files/scientific_output/files/main_documents/4321.pdf
03.2015
Prof. Dr. Klaus Becker most cited Scientist 2015 again!
Prof. Dr. Klaus Becker, founder and shareholder of JatroSolutions GmbH, has again been identified as the one of the most cited scientists in the field of agricultural science. After the similar recognition in 2014, Thomas Reuters has once again put Prof. Dr. Becker's name onto their renowned list in 2015. The University of Hohenheim as well as our company congratulate Prof. Dr. Becker to this notable appreciation of his work. Press release
2015
Jatropha-projects will be implemented in Iran
Our chief breeder Dr. Juan Montes and Jatro Solutions' co-founder Professor Klaus Becker have attended the 9th Green Management Conference, which took place in Tehran in January. They have also attended the 1st Professional Seminar of Jatropha, which was a part of the Conference. As another part of their visit, they explored the Kaki Jatropha Farm in the southern part of Iran. This farm is a joint project between the Tehran-based company JatroPars and the Bushehr Agricultural Research, Education and Extension Organization. Professor Becker and Dr. Montes have been accompanied by Mr. Amir Panahi, Founder and CEO of JatroPars, and Mr. Farhad Fakhri the project manager in Bushehr.

2015
Phorbol ester presence or absence-Important parameters for the selection of crossing partners in jatropha breeding
The seed oil content and other yield parameters in self- and cross-fertilised seeds of Jatropha curcas are significantly influenced by the utilised seed and pollen parents. Especially presence or absence of the toxic phorbol ester compounds in the selected crossing partners is very important. These are the key findings of a study conducted by JatroSelect in cooperation with the Institute of Plant Breeding, Seed Science and Population Genetics of the University of Hohenheim, which has now been published in the peer-reviewed journal BioEnergy Research. The outcomes of this investigation will help speeding up the development of new Jatropha cultivars and optimising hybrid seed production within the Jatropha breeding programme of JatroSelect.
2015
Saudi Arabia: 10,000 hectares of land are forseen to be planted with Jathropha cultivars from JatroSolutions
The Saudi Royal Family provides 10,000 hectares of desert area to his Excellency Sultan Masood Dakik and JatroSolutions for Jatropha cultivation. Addtional joint projects could follow. Further information: Universität Hohenheim Carbon Farming
2015
A new study shows that the perspectives for Jatropha breeding are excellent
The absence of improved Jatropha cultivars and the lack of agronomic knowledge have been the limiting factors for successful Jatropha cultivation in the past. Plant scientists of JatroSolutions' breeding department JatroSelect now showed that the development of improved cultivars is a very promising endeavor. The results of their study have recently been published in the internationally renowned and peer-reviewed journal GCB Bioenergy. The authors investigated the perspectives of a worldwide Jatropha breeding program comprising JatroSelect genotypes and testing sites. Various studied parameters for agronomic and quality traits revealed excellent perspectives of the Jatropha breeding programme. The authors concluded that apart from improved cultivars, definition of favorable environmental factors and refinement of agronomic management practices are needed to secure sustainable Jatropha cultivation. read more
2014
Lufthansa signs Memorandum of Understanding about Jatropha cultivation with JatroSolutions GmbH
The German airline Lufthansa has signed a Memoranum of Understanding with JatroSolutions GmbH in order to make sustainable Jatropha cultivation commercially viable. JatroSolutions will support in setting up a supply chain for the provisioning of biosynthetic kerosene made out of the Jatropha plant. read more
2014
Call for project partners for large-scale (>1000 ha) Jatropha cultivation with improved cultivars and best agronomic know-how!
JatroSolutions is looking for project partners who are interested to jointly develop a large scale Jatropha plantation in close cooperation with us. Required are a sufficient area of land (1000 ha or more) as well as the infrastructure and workforce in order to cultivate this production area. JatroSolutions offers our improved Jatropha cultivars and extensive support with our broad agronomic know-how. The application deadline is December 31, 2014; qualified prospects are very welcome to get in touch with us via e-mail, web form or phone.
2014
Prof. Dr. Klaus Becker awarded!
Prof. Dr. Klaus Becker, founder and shareholder of JatroSolutions GmbH, has been identified by the renowned business and science information service Thomson Reuters to be one of the world's most influential scientific minds in the field of agricultural sciences. We are very proud that we as a company can access his enormous knowledge and experience at any time. The complete 2014 Thomson Reuters listing can be found here. read more